The iPad for Financial Advisors and Wealth Managers
Details

Created: Wednesday, 07 April 2010 01:14
Written by Bill Winterberg
The Executive Summary
What: Apple iPad Wifi 16GB
Pros: Elegant design, sleek & attractive, easy touch interface with nearly no learning curve, 10+ hour battery life
Cons: (Besides the 13 referenced below) No native file explorer, editing existing documents is a convoluted process.
Takeaway: The iPad can compliment a paperless office, enhance meetings with clients, and provide a single source to access print and online media if you're willing to work within the limitations of existing apps.
The Review for Financial Advisers & Wealth Managers
What you won't find in this review are the general statements about the iPad's cool features (like iBooks, pinch-zooming, etc.)  and the drawbacks (no multitasking, no USB ports, etc.) of the device. Instead, you'll find my take on how I believe advisers and wealth managers can use the new tablet computer to enhance their daily lives.
If you still feel like you need the basic pros and cons overview of the device, here are two links, one in favor of the iPad's potential to change computing, and one painstakingly detailed on the drawbacks of the device.
With that out of the way, let's explore the ways I see advisers using the iPad.
Access Your Documents, Anywhere, Anytime
Some advisers have implemented a paperless office, and many others are considering operating in a paperless environment for a variety of reasons. The iPad can be used in a paperless environment as a new conduit to access all the information stored electronically.
The most direct way to access electronic documents with an iPad is to use an iPad (or iPhone) app. However, apps are non-existent from the major document management companies that serve financial advisers (e.g. Laserfiche, Worldox, CabinetNG, or DocuXplorer).
The next best thing to an iPad app is to access electronic documents via the built-in Safari web browser. This works particularly well for the web-based "cloud" service providers. Take NetDocuments as an example.

To access any document stored in NetDocuments with an iPad, use Safari to navigate to the NetDocuments login page, enter user credentials, and the NetDocuments home page is displayed with many of the features that appear on the desktop version of the program.
NetDocuments provides an optimized website tailored for mobile devices, including the iPad. Any document stored in the service can be viewed and the site supports a full-text search of all available documents.
Click the image below to view a 2:30 demo of the NetDocuments mobile website as seen on an iPhone.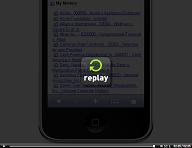 If a cloud document management program isn't used, the option to view files gets a bit tricky. The iPad does not have a native file explorer, so there's no way to "drag-and-drop," say, a PDF file from a desktop machine to the iPad.
A word of warning: the following applications mentioned may circumvent security policies for documents with private client data. Proceed with caution!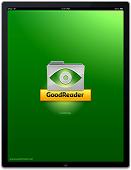 Several iPad apps exist that support the management of common file types such as .doc, .ppt, .pdf, and .html, the most popular of which is GoodReader ($0.99). Within the GoodReader app, files can be transferred from a desktop computer to the iPad over a shared Wifi network.
An alternative to GoodReader is to use a file synchronization service such as SugarSync. SugarSync creates a folder on a desktop's hard drive that is synchronized to the SugarSync cloud. Any file saved in the SugarSync folder is automatically uploaded to the cloud and can be accessed through the SugarSync website. In addition, files in the SugarSync folder are synchronized to any other computer with SugarSync installed and used by the same user.
SugarSync supports a free app for the iPad, so any document stored in the SugarSync folder can be accessed directly through the iPad. There is one caveat: viewing PDF files though SugarSync is limited to file sizes up to 20MB.
DropBox is another cloud synchronization service I've mentioned before, but as of this writing, only an iPhone app exists which isn't suitable to viewing documents on the large iPad screen.  However, GoodReader has a very slick feature that allows the app to connect directly to DropBox, so files stored in Dropbox can be downloaded into GoodReader and viewed at full resolution.
Naturally, an iPad with 3G Internet connectivity eliminates much of the need to load documents on the iPad's internal memory. Still, there are times when the iPad will be used in an area with unreliable AT&T 3G service or no 3G at all (like during a flight), so getting in the habit of downloading important documents to GoodReader goes a long way.
Enhance Client Meetings
Once the iPad is connected to electronic documents, advisers can aim to replace piles of papers typically generated for client meetings with one simple device. Most meeting preparation includes a lot of document printing, including the meeting agenda, past portfolio performance reports, asset allocation chart, and various support documentation.
Instead of printing all of these documents, advisers can load them onto the iPad and access them (if necessary) during the course of the meeting. Adopting this paperless meeting style certainly demonstrates an innovative culture, but the reduction in paper use is cost effective and eco-friendly as well.
Also, during the course of a meeting, advisers may want to access the firm's CRM system to refer to historical notes from a phone conversation or schedule a future appointment. Instead of deferring these tasks after the meeting, advisers can use the iPad to review these items in the CRM on the spot.
Again, cloud/SaaS CRM programs (think RedTail, Salesforce, AppCrown, ProTracker Advantage Cloud, etc.) make access via an iPad fairly easy, since all that is needed is a web browser. Locally installed CRM programs present more challenges. Some local CRM systems feature support for mobile devices, such as the Junxure Mobile add-on to Junxure.
Single Source for Media
The iPad is purpose built to consume media. Apple iTunes connects to volumes of audio and video content while the iBooks and Amazon Kindle apps enable access to nearly half a million books. In addition, a handful of major financial publications support individual apps to access exclusive content, including The Wall Street Journal (though it's rated very poorly) and Reuters News Pro.
But what options exist for industry publications like InvestmentNews, Financial Planning, Financial Advisor, Investment Advisor, and the Journal of Financial Planning?
There are at least two ways to view content from industry publications on an iPad. First, PDF files can be generated from content available on the Internet from the various publications. PDFs can be created directly with Safari on an iMac or by purchasing Adobe Acrobat for a PC (several free PDF printing utilities are also available for PC). Move the PDF files to SugarSync, GoodReader, or email them to an email address linked to the iPad's email program to view the file on the tablet.
Second, a hard copy publication can be physically scanned and saved as a PDF file (a.k.a the brute force method). I experimented with a recent copy of BusinessWeek and cut the binding off of the magazine to feed all 84 pages through my Fujitsu ScanSnap S1500. About 3 minutes later I had a PDF file of the full magazine ready to access from my iPad (using SugarSync).
I used Adobe Acrobat 9 to optimize the original PDF and reduce its size to about 7MB from an original size of 42MB. Obviously, smaller file sizes transfer faster over Wifi, but it also gets around SugarSync's 20MB file size limitation. But again, GoodReader gets the nod when viewing PDF files due to its decent navigation options like a single-tap page advance and "go to page X" selection.
Again, just like adding documents for a client meeting, advisers can aggregate different sources of industry media onto one device for reference and reading at any time.
Sum It Up
I highlighted three main ways I believe advisers can leverage new functionality made possible by the iPad. While the iPad can compliment the tools used in an innovative wealth management practice, I don't expect the device will take over as the main computing tool in such an environment.
As the platform continues to increase its market share and adoption, I anticipate that new apps will emerge to expand the business applications for advisers beyond those that I can think of today. For example, I think Wifi will be the new USB. USB cables and ports will be rendered obsolete as devices will soon talk to one another via shared Wifi connections instead of USB. Yes, you heard it here first.
So should advisers run out and spend at least $500 to add the iPad to their practice? That depends.
If the uses I described are extremely appealing, one may find the price easy to justify. But in environments without paperless document management or online CRM systems, advisers may not fully realize the potential of how an iPad can change the way they run their business.
This Website Is For Financial Professionals Only